Wayland Locksmith Store Emergency Unlock Service Wayland, MA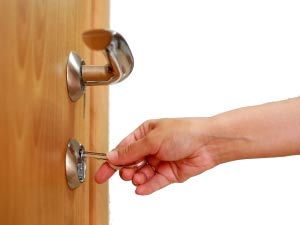 Being locked out of your property can be a frustrating and sometimes a frightening experience. If you live anywhere in the Wayland, MA area, there's no need to panic, though. Wayland Locksmith Store provides a 24-hour emergency unlock service that will get your locks opened quickly and you back inside before you know it. We are a professional locksmith service that has been helping with urgent requests for a very long time. Our locksmiths are very experienced and reliable, so don't think twice about contacting us.
What can we help you with?
Apart from getting doors unlocked, our emergency unlock service is also good for other items. If it has a lock and a door, we can get it open. Here is a list of some of the most popular items we are asked to unlock on a regular basis:
Car, business, and home doors unlocked: If you got locked outside of your property, you don't have to worry. Our emergency unlock service can get both electronic and mechanical locks open quickly. If the lockout was caused because of a lost key, we can make you new ones.
Car trunks unlocked: Having trouble with a jammed car trunk? Or, perhaps, have you lost the key to it? We can unlock it for you with the help of our tools. We will also rekey your lock, if necessary.
File cabinets unlocked: We can open file cabinets quickly, without damaging your important papers and documents. We can rekey the lock on the file cabinet too.
Safes unlocked: A large number of our customers manage to forget the combination to their safes. If that's happened to you, our emergency unlock service can help.
Garage doors opened: We can repair faulty or jammed, or off track, garage doors, including commercial ones. We will also replace the garage door for you, if it proves to be necessary.
Get faulty doors and garage doors replaced
We can not only open your doors, but also replace them if the lock out was caused because of a jammed/faulty door. The same goes for garage doors. Our locksmiths can evaluate your old doors and inform you if they need to be replaced.
24-hr availability
You can hire our service 24 hours a day and 7 days a week in Wayland and surrounding areas. We don't charge extra for emergencies or if you need us at night. Call us on 508-980-7054 !